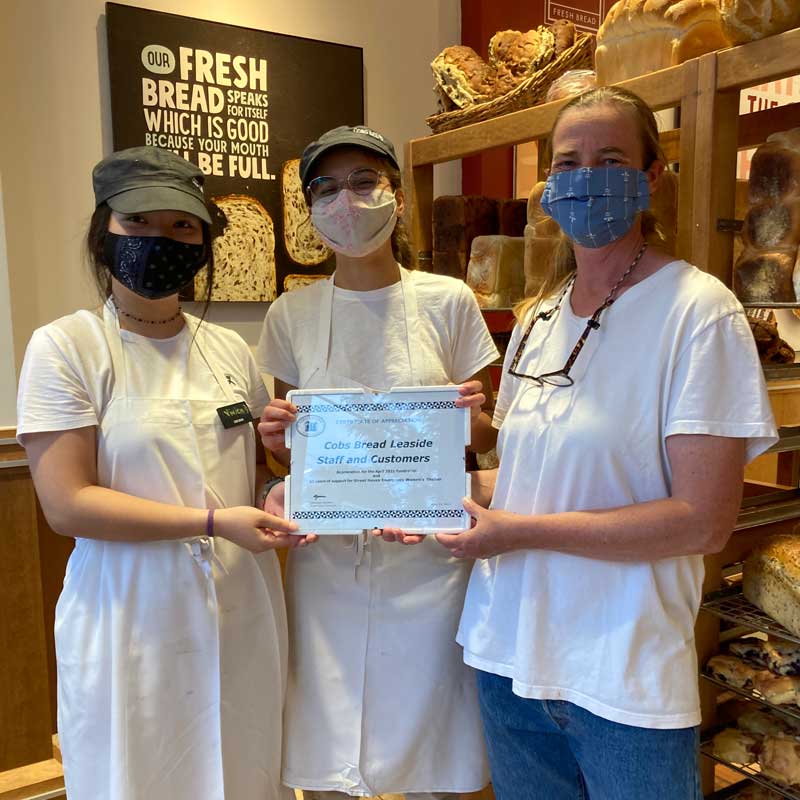 COBS Bread has been a Leaside favourite since it opened its doors more than a decade ago with Fiona Boylan at the franchise helm.
Fiona Boylan comes to COBS Bread with varied skills and talents. She started out as an elementary school teacher, completed business school, worked in the not-for-profit sector, continued at the CRTC and Rogers Wireless before deciding right after the 2008 financial meltdown that she "was looking for a change in her life, and that a good fit would be something entrepreneurial."
The bakery experience called to her. A bakery, she says, is "a happy place that smells good, and with no high-pressure sales."
COBS Bread started in Australia before coming to these shores and opening in British Columbia and Ontario – where their first local store was the one we know and love on Bayview. A dozen years ago, Fiona became its franchisee-owner. She likes the stability of a franchise with corporate help, but acknowledges that it is "busier and more stressful than I had anticipated."
What she really loves is the sense of community, both within the bakery and our wider community. For instance, her head baker, Sake, has been with her for 10 years. Fiona describes Sake and the other bakers as "magical bread elves in whom she has complete trust." He works with six or seven other bakers, their shifts starting each night at 11 p.m. or midnight to be ready for the morning crowd, and on some busy days, the last baker leaves at 3:30 in the afternoon.
Many of the sales staff are also long-time employees. High school students who work there in the summer often return for the holidays rush to help out. What truly pleases Fiona is they recommend COBS to their friends as a good place to work. "I'd be lost without the team we have here, and are proud of what we do." Especially during all the trials since a year-ago-March, she and her staff greatly value the "gracious community" who have kept coming to the store, bringing smiles, appreciation, and sometimes treats for the COBS staff as well.
COBS corporately supplies the recipes, ingredients and the "look" for what you see on their shelves, but there is "a bit of a guessing game" in figuring out, for instance, how many loaves of sourdough might actually be picked up in a day, and how to navigate that process within a limited space, that takes 36-48 hours. On Christmas Eve, for instance, 3,000 dinner rolls and 90 loaves of sourdough will move out the door. It goes without saying that food safety rules are rigorously followed, and all health inspections pass muster.
COBS' philosophy is Bake, Open, Close, Donate, REPEAT. The donation aspect is part of the company ethos, and end-of-the-day giving is important. It's not leftovers that are given away at the end of each day, but quality bread and baked goods that make their way to a number of charities to be donated, not sold. It often takes two well-laden vehicles to handle the nightly haul.
Fiona is such a COBS believer that she now is in charge of three COBS locations. Five years ago, she added a new location in the west end of the Danforth, and three years ago, she took over a location on Bloor Street in the Annex. That is a lot of bread!