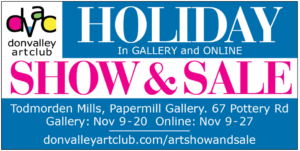 Don Valley Art Club Holiday Show and Sale
Nov. 9-20 Gallery: Todmorden Mills, 67 Pottery Rd.
Nov. 9-27 Online: www.donvalleyartclub.com/artshowandsale
Date and time
Gallery: Wed, Nov 9 – 20 , 2022
Hours – Wed to Sun 11am to 4pm (closed Mon and Tues)
Online: Open 24 hours! Continues to Sunday Nov 27
Location
Papermill Gallery
Todmorden Mills Heritage Site
67 Pottery Road Toronto
Website
www.donvalleyartclub.com/artshowandsale

Don Valley Art Club Holiday Show & Sale 2022
Don Valley Art Club Holiday Show and Sale welcomes the festive season in November!
LIVE in Gallery and Online! We are excited that we will be able to showcase our artwork once again in the Gallery as well as continuing virtually.
See 100+ new artworks in the Gallery and 300+ artworks online! More than 100 members offer a variety of mediums, subject matter and style.
Originally established in 1948, the DVAC for many years had its clubhouse at Todmorden Mills. Since then, twice-yearly exhibitions have always been held at that location.