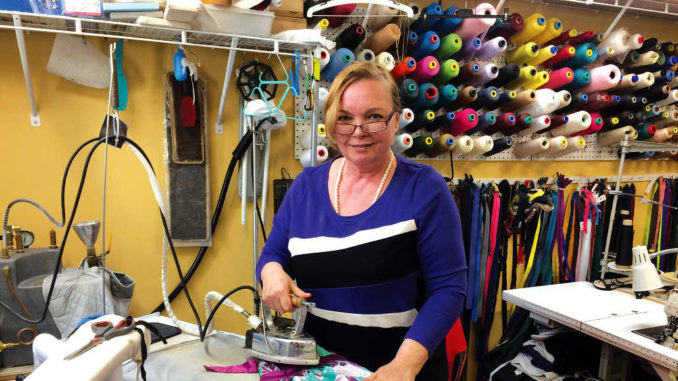 Inspired by her mother who made clothes for the entire family, a young girl in Tashkent, Uzbekistan started making outfits for her dolls. From dolls it didn't take long before young Irene Estrin graduated to somewhat larger models. Her expertise and creativity have earned her a reputation as Leaside's most popular dressmaker.
After studying at the Textile Institute in Tashkent, and spending three years working at a bridal salon in Jerusalem, Irene Estrin arrived in Canada with her husband in 1998. Soon after, she opened a basement studio at Bayview and Balliol. She's been sewing in Leaside ever since. (See her website www.irenesstudio.com).
Three years later, she moved to the corner of Bayview and Belsize, ending up in a third floor unit. Throughout her years on Bayview, Irene built up her business by doing alterations, designing and creating clothes and producing home decor items such as curtains and pillowcases.
Then one day someone from Becker's Bridal Fashions spotted her sign "The Art of Alteration" and asked if she could alter wedding dresses. Irene says that was "her dream come true." Today these alterations make up half of her business and her studio is top of the list for a number of bridal salons. At least one bride-to-be graces her shop every day.
Irene loves the challenge of making each bridal gown compliment-worthy. "I'm here to make people happy," she says. A wall in her studio covered with wedding photos and notes from grateful clients is testament to the fact that she does just that.
Two years ago when faced with a rent hike on Bayview, Irene moved to a retail condo at 201 Wicksteed Ave. The advantages here are the ground floor location, ample free parking, a brighter and more modern space, and more room for Irene's team of seamstresses, as well as bridal parties who like to come as a group for fittings. (Think Say Yes to the Dress.)
Irene's business has not suffered a stitch from the move and her patrons enjoy the new space, finding it more comfortable and convenient than the location on Bayview.
Some of Irene's more unusual jobs include making costumes for an Egyptian dance troupe and new leather covers for the massage tables at the Canadian College of Massage and Hydrotherapy. Once, working only from a photo, Irene made a gown and bolero for a bride. She has done emergency jobs for weddings in a day or two, and is very accommodating for regulars who need something in a hurry.
For all of these reasons, Irene receives high praise in the community and on Internet sites such as Yelp where reviews comment on her "expertise and attention to detail" and her "terrific service" at reasonable prices. She even received a Best of North Toronto Award in 2013 after being nominated by local comedy couple Debra McGrath and Colin Mochrie.
"I work from my heart and do my best for everyone ," she says. The results are literally on clients' backs.