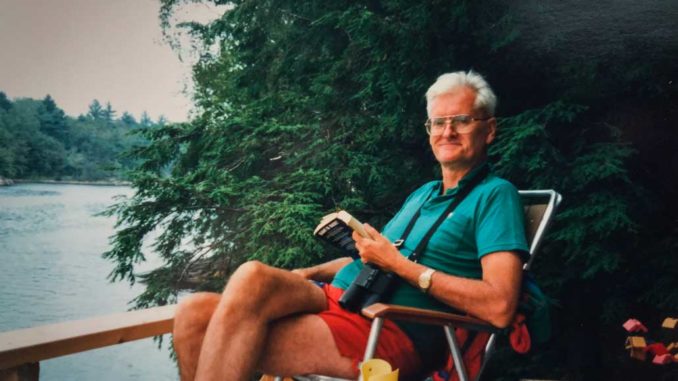 In early January, my father, Dr. James Coryell Fallis, well into his 90th year, passed away. Our mother died back in 2002, so with Dad now gone, it is indeed the end of an era. We'll all miss him, but with so many great memories to sustain us – usually fuelled by laughter – we'll be okay.
Dad's sense of humour was legendary. But to his kids, it was just a normal part of everyday life growing up in our house. In hindsight, I realize now that it was more of a perpetual master class in humour. And it lives on in the families of his three remaining children. If you were to join any of our family dinner tables on a Sunday night, you would know that Dad's gift for humour and laughter is alive and well in the generations that followed.
His humour was often delivered straight-faced, leaving the uninitiated to wonder if he was being serious. We all warned our future spouses about this when we first brought them home to meet Mom and Dad, and they all took it in stride. Dad welcomed our partners into the fold with great warmth while occasionally lamenting the associated depletion of his wine cellar.
Dad also loved language, a passion likely inherited from his mother, who was an inveterate reader. Our father engendered in all of his offspring his respect, even reverence, for language and its proper usage, though I've been told by annoyed colleagues that it found the most fertile ground in me. I remember family dinners when Dad and I would debate the geopolitical implications of the split infinitive and other important and pressing matters. It did help to cut down on dinner guests.
Growing up, it was certainly handy to have a doctor in the house. Most of the kids in our neighbourhood have at least been examined and diagnosed by my father after some mishap in the park or on a bike. He sewed up many of them as well. But like many physicians who were also fathers, Dad seemed to underplay the severity of injuries and maladies in his own children. The most memorable instance of this came one Sunday morning when my twin brother Tim suffered a leg injury in our weekly Leaside hockey game. When we got him back home, Dad examined him, poked and prodded, twisted and torqued Tim's leg and pronounced that it wasn't anything serious. I forgot to mention that this all unfolded on Super Bowl Sunday. When Tim was still in considerable discomfort – okay, call it pain – after the Super Bowl, Dad then took him down to Sick Kids where an X-ray clearly revealed a fractured tibia.
Notwithstanding that Super Bowl story, beyond his family, nothing was more important to Dad than his role as a doctor and all it encompassed. Familial pride aside, his impact in medicine was considerable. He was a pioneering pediatric surgeon. I know many of you have pondered over the years just who was the first physician in North America to use the gastric tube in a pediatric patient. Well, ponder no more. It was Dad in the late 1960s. He practiced first at the Hospital for Sick Children, then at North York General, before returning home to Sick Kids to become the first Director of the Emergency Department, a role he loved.
He also played an important part in creating the air ambulance service in Ontario. I do feel compelled to report that despite persistent badgering from his children, only my twin brother Tim – technically the first-born – somehow finagled a flight on Bandage 1. I'm quite certain he was not injured at the time. Dad also indulged his interest in language by writing several books, a tendency I seem to have inherited.
Yes, it's always tough to lose a parent. But my mother and father passed along so much to their children, and through us, to our own kids, they'll be with us for quite a while yet. In fact, I wouldn't be surprised if Dad has already corrected the grammar in this column. We'll miss him.