ears. The Little Dollhouse Company is the top miniature retail destination in Canada and one of the top five sites in North America and beyond in terms of size and selection.
Maria Fowler became enamoured with the store at 617 Mt. Pleasant in 2001, when she was looking for a retail outlet for her cloth toy business. Once she saw the store, she was determined to buy it, and her husband agreed. She soon recruited John, a computer engineer and miniature railroad enthusiast, to build the dollhouses, and a couple of years later, they relocated across the street to 612 Mt. Pleasant to expand the workshop and retail area.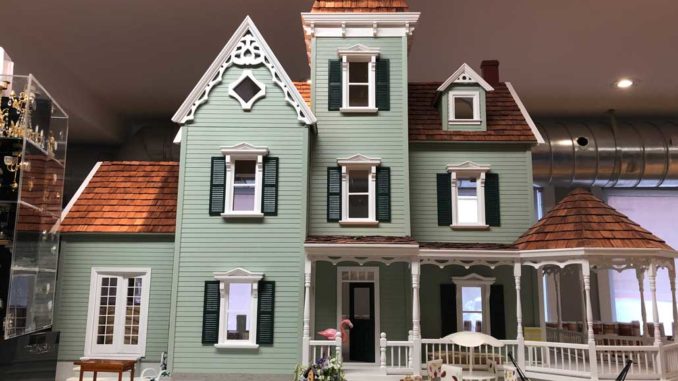 The move to 862 Millwood in February was motivated by the Fowlers' desire for a more up-to-date facility with free parking, while staying in a central location. The new space was recently renovated and has five parking spots in the rear.
To enter the shop is to become enthralled by the tiny perfect world of miniatures. As Maria says, "We try to reproduce the entire world in miniature in every time period we can." At any given time, there might be 60 or more dollhouses on display in different styles such as Tudor, Colonial, French Provincial and Victorian. There are also kits for those who want to build their own houses, and some clients order custom-made reproductions of favourite places.
Maria is not exaggerating when she says they "carry everything to facilitate the reproduction of life in miniature." There are dolls and their clothes, furniture and equipment for every room in the house, including libraries and music rooms. The accessories list includes curtains, beds, bathroom fixtures, appliances, light fixtures including Swarovski chandeliers, dishes, glassware, food items, pets, Christmas decorations, patio furniture and plants.
This dazzling array is the result of what Maria calls her "shopaholic" nature. She loves to search out the most realistic and attractive accessories at the 15 or more trade shows she and John attend every year in the States, Europe and the U.K. Their shop is bursting with these remarkable reproductions, many of them handcrafted. The trade shows are essential to their business, and it has been a highlight of their career to be accepted to some of the top shows in the world such as the Chicago International, Philadelphia and Kensington events.
Thirty to 40 per cent of their business comes from children, but it's adult collectors who really make the business thrive. Their clients come in person from all over Canada and even Germany and the U.K. And of course, the shop does a brisk business on the internet and at trade shows. The Fowlers even have a warehouse in Buffalo to facilitate the shipping and receiving of goods to keep costs competitive for their clients.
The shop has a stellar reputation for being "the must-see destination for miniaturists," but Maria says that it is a "business of love rather than profit," and they view their success in terms of enjoyment for themselves, their staff and customers.
They are happy to be in Leaside attracting curious new visitors. As for the future, the Fowlers say they won't move again and are "planning to be an institution here for a long time." Visit them at www.thelittledollhousecompany.com or drop by the store and be prepared to be amazed.