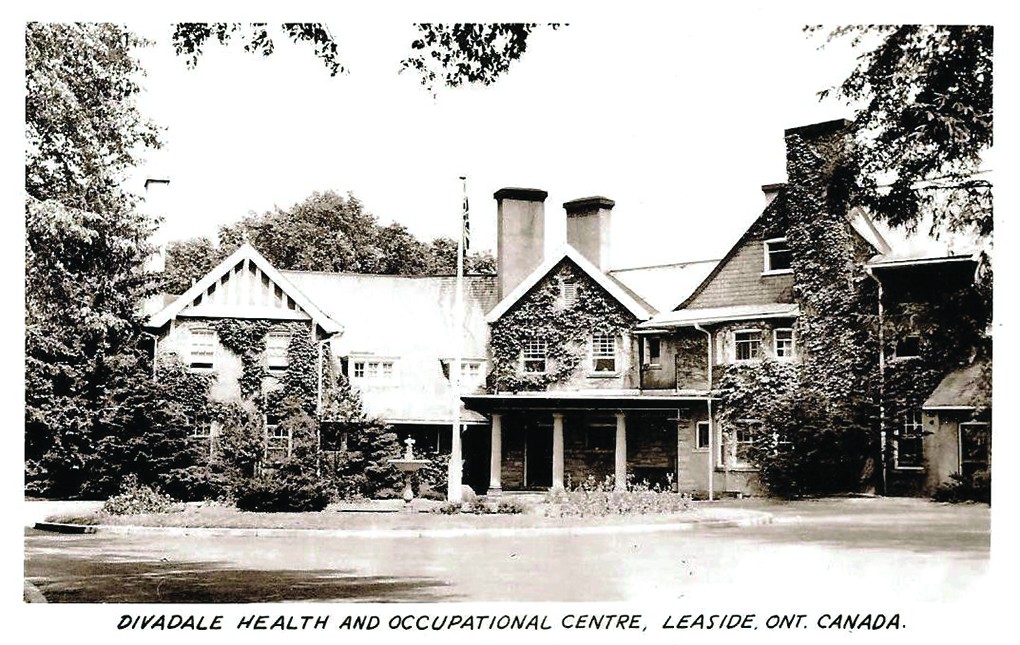 Divadale was at one time one of the most luxurious estates in the Bayview area. It was the home of Capt. James Wainwright Flanigan, who worked for Andian Corporation, a subsidiary of the Imperial Oil Company. Capt. Flanigan had visited many countries – France, Italy, England and North and South America – where he bought antique paintings and furniture, guns, and coins that helped to decorate the estate.
The street now known as Divadale originally rested on land on the Don River which Flanigan bought from the Kilgour estate. Joseph Kilgour's widow, Alice, had retained York Lodge (part of the estate) until 1930 when she sold it to David Dunkelman, president of Tip Top Tailors. In 1936, the property with the house, gatehouse and entrance gate was transferred to Flanigan, who renamed the house "Divadale" in 1943 after his daughter, Diva. Divadale stood at the end of Sutherland Drive; the gates still stand.
Flanigan's estate, Divadale, was later enlarged to 62 rooms that included an indoor swimming pool, bowling alley and shooting gallery, all fairly new concepts for the time. The lavish country home, designed by renowned Toronto architect Gordon Adamson, included a two-storey English baronial music room. More than 500 orchids grew in a nearby conservatory, and South African birds, peacocks and pheasants roamed the grounds. Divadale estate hosted a number of garden parties, many of them fundraising events, until October 1942 when Capt. Flanigan left Canada for Washington, D.C. He donated his antiques and paintings to the Royal Ontario Museum and sold others by auction.
Divadale estate enjoyed many uses over the years until 1960 when it was demolished. From 1943 until 1953, it was a military hospital, then in 1946 became a military convalescent home for the Royal Canadian Air Force and elderly veterans. After the house was demolished, the gates and gatehouse were retained. Lyndhurst Hospital was constructed on part of the property in 1978.
In addition, Northlea School is located on the site of the old Divadale Estate on Rumsey north of Eglinton. It was opened in 1944 and at the time had 15 classrooms.
Jeanne Hopkins is the author of many articles and five books of local history.