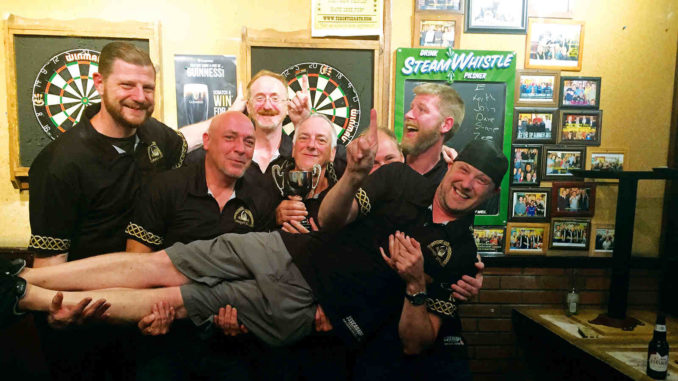 Until very recently, my knowledge of darts did not extend far beyond hearing (and being able to imitate) the English commentator who would yell, "ONE HUN-dred and AIIII-ty!!!" But the dart world extends far beyond the U.K. and is extremely active right here in Leaside.
Before investigating dart culture, it was important for me to ask the first obvious question. What does one even call a person who plays darts? (And this was a question which even stumped the competitors). A darts player? A darts competitor? Or, as I would love to call them, dartists? For this article, I will grudgingly refer to them as darts players.
Every Tuesday night at the Leaside Pub, more than 40 players gather from pubs across the city to participate in matches. Leaside itself has five teams which are part of a 38-team league, the Queen Street Dart League (QSDL). Teams alternate week to week between their own pub and those of their rival pubs. (Who wouldn't like a sport that operates out of pubs?) Male and female players range in age from their 20s to 80s, with one 78-year old woman competing.
The Leaside division of the QSDL originated in 2007 when a group of friends who happened to frequent the pub and enjoyed a good game of darts formed a team called the Villa Throwers. While a few of the original players have died, the core of the group has continued as The Throwers. They, along with The Rogues and Rovers, The Tungsten Ticklers, The Focus Group, and The Bored Members, make up the Leaside contingent. The Bored Members are captained by the Leaside Pub's part-owner and general manager, Param Ratna, who generously provides food for the group each week.
Teams consist of eight to 12 players, and at least six must attend a match in order for the team not to forfeit. The main season runs from September to May with a smaller number of teams participating in the summer months.
As league fees are covered by the pubs themselves, and players' costs are limited to their equipment and nightly pub bill, the sport is highly affordable. It's also accessible to players of all abilities as teams are split into divisions from practically newbies to intermediate throwers. As Dave Davenport, captain of the Tungsten Ticklers points out, "Some teams are very serious and some are recent players." Dave's is the only Leaside team with its own shirts, as Dave laughingly jokes, "so we look more intimidating!"
Rick French, a player with the original Leaside team, The Throwers, says that for him, the league has been a great way to reconnect with old friends and a way to make a lot of new ones. The fact that they play on Tuesdays is also, he adds, "a great way to break up the week."
So while someone once referred to Tuesdays as "Monday's ugly child," they truly are a great night in Leaside. The atmosphere at the pub is one of high energy, camaraderie, and good old fun. Dartistry at its best!
Note: if you'd like to join the league, spots are available. Contact Param, .
To learn more about the darts rules, visit www.darting.com/Darts-Rules/.