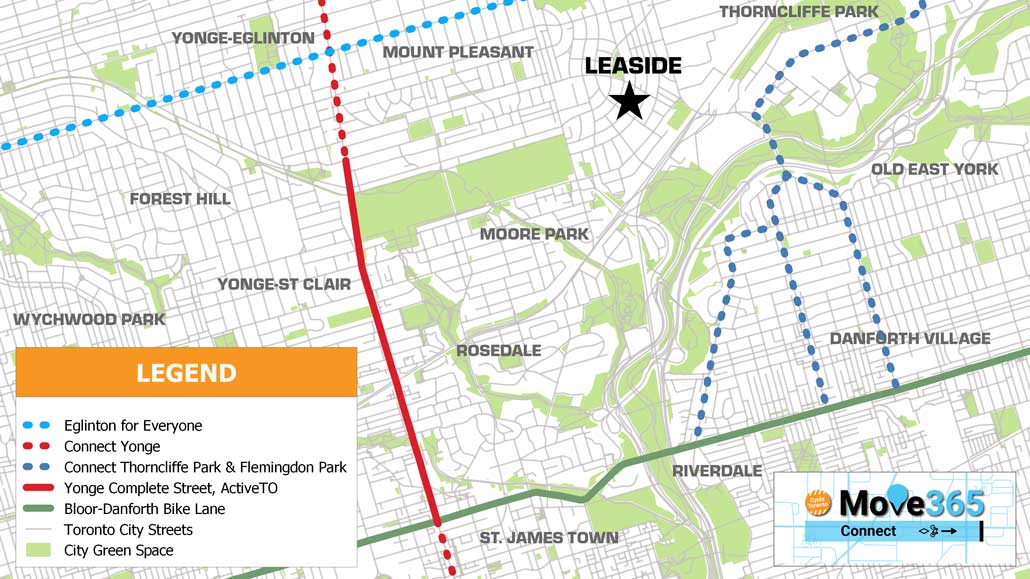 Move365 Connect is a new initiative by Cycle Toronto, a registered charity advocating for a safe, healthy and vibrant cycling city for all. Until recently, those of us living north of Bloor could only look on with envy at the network of safe cycling routes in the city core. Through Move365 Connect, Cycle Toronto aims to bring more protected and connected cycling infrastructure to augment heavily used transit routes around the city. It's a program that will benefit Leaside, putting us in the centre of three major routes.
Connect Yonge
The complete street on Yonge implemented from Davisville to Bloor provides an alternative to the Yonge subway and is the first north/south protected bikeway in midtown. Anyone travelling the route this summer was able to experience a transformed Yonge with calmer traffic, lively cafés and the silent and emissions-free passing of people on bikes. Given varied street widths, multiple intersections and differing stakeholder needs, City staff are to be commended for a design that balances everyone's interests. With Council-approved makeovers on Yonge between College and Queen (YongeTOmorrow) and north of Sheppard (Reimagine Yonge), it makes sense to extend the complete street design and connect downtown, midtown and uptown, bringing climate-friendly foot and bike traffic to benefit businesses and residents nearby.
Eglinton for everyone
The Eglinton Connects Streetscape is the complete street complement to the Eglinton Crosstown LRT, running from Mount Dennis to Kennedy. It follows the practice of building safe and connected pedestrian and cycling networks that take people where they want to go, supplement transit, and support local businesses and communities. LRT stations along the 19 km route have ample bike parking thereby facilitating last-mile connections by bike. Watch for a City staff report to Council this fall outlining a plan for implementing a complete street on Eglinton coincident with the opening of the LRT.
Connect Thorncliffe Park and Flemingdon Park
With a remake of the Don Mills Road and Overlea/Gateway Blvd. intersection coming in 2022, the Overlea Bridge up for much-needed rehabilitation (2023-2025), and a refresh of the bike lanes on the Leaside bridge (2021-2023), there's an opportunity to incorporate safe space for people to walk and cycle, connecting Thorncliffe Park and Flemingdon Park to each other and also to Eglinton and the Danforth.
What's not on the map?
Reconstructing the road is the perfect opportunity to build back better with climate-friendly and safer streets. Bayview, from Broadway to Post Road, is up for reconstruction in 2023, opening the door to connect the bikeway on Eglinton to major health-care facilities, schools and Glendon College. The Laird in Focus planning study calls for a complete street treatment of Laird, including protected bike lanes, which would make the future Ontario Line station in Thorncliffe Park a short bike ride from Leaside.
Get involved
Last summer's campaign for a complete street on Yonge in midtown proved good things can happen when residents speak up. If you want more alternatives for everyone to get around safely, be sure to let your councillor know.