Drains, mains and sump pumps
The almost $7 million contract awarded to GFL Infrastructure Group as part of the City's Basement Flooding Protection program continues to wind its way through Leaside. Expected to be completed this summer, upgrades have been made to the storm sewers, combined sewers, and watermains to reduce surface basement flooding. The City is also reminding Leasiders that if you have a house built pre-1950s, and you have not had your water service upgraded, your service may be made of lead and you may want to change this service. Check your sump pump to ensure it is functioning properly and that any battery backup system is also working properly. The cost for a properly maintained sump pump will be far less than the cost and inconvenience of a flooded basement. A failed $300 sump pump resulted in the Idler having to negotiate a $30,000 insurance claim.
Post office woes
As our world continues the march towards digital, a reader has expressed concern about the limited traditional postal services available within Leaside. Currently, the only postal outlet is located on the second floor of the Shoppers Drug Mart at 1601 Bayview Ave, which has elevator service for those who have difficulty with the stairs. In 2017, Leaside Life's Lorna Krawchuk wrote about the strange phenomenon of moonlight disappearance of our neighbourhood red mailboxes. In April 2021, the Canadian Press reported that the Crown Corporation lost $779 million in 2020, a fivefold increase from the $153 million loss in 2019.
Scammers (revisited)
In our February 2021 issue, the Idler included a note from a reader who suggested that the folks who have been "working" Bayview Ave. were probably scammers and people should stop giving them money to make them "go away." This elicited a strong response from a few of our regular Leaside Life readers who contacted us to object to the assumption that these women sitting in front of Dollarama and other locations were scammers. One reader stated: "I feel the piece titled "Scammers" is mean-spirited," while another called for more compassion and kindness.
King of Leaside, George Turrell dies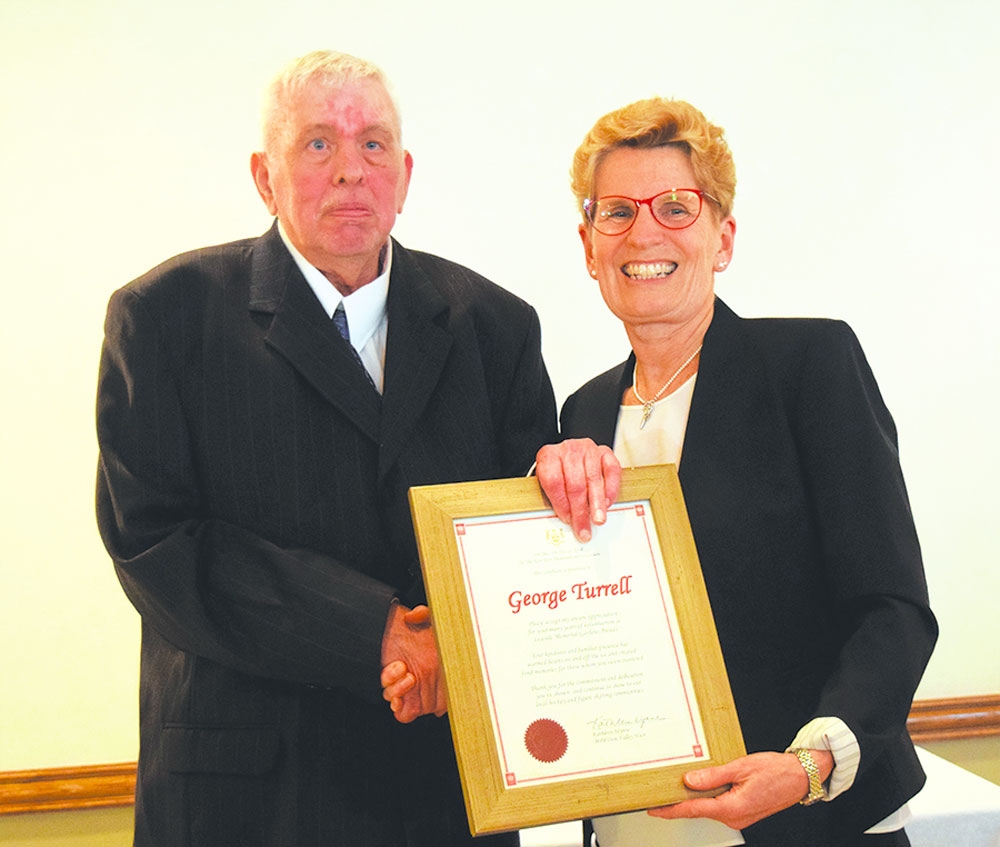 On April 21, 2021, George Turrell, a well-known fixture at the Leaside Arena for over 50 years, died. For generations of Leaside families, George was affectionately known as the "King of Leaside." In April 2017, then Premier Kathleen Wynne presented George with a special certificate of appreciation in front of a crowd of several hundred supporters. You can read Dan Girard's account of how special George was to Leaside in the May 2017 issue of Leaside Life. More recently the Leaside Sports Hall of Fame established The George Turrell Lifetime Contribution Award to recognize individuals like George who have demonstrated a high degree of devotion and commitment to local sports organizations over decades of service in the community. George was the first recipient of the award.
Shop local!
The Ontario government declaration of emergency and province-wide Stay-at-Home order is expected to be lifted on or about June 2. With more than half of Canadians, and an even higher percentage of Leasiders having received their first COVID-19 vaccine dose, we are all hoping for a more normal summer. As our Leaside retailers and restaurants plan to reopen, their world will be far from normal. With increased safety measures and limits on capacity, businesses will be facing continued challenges. The Idler encourages everyone to shop local. The hallmark of Leaside businesses has been the outstanding support they give to our community. It's time for us to give back!