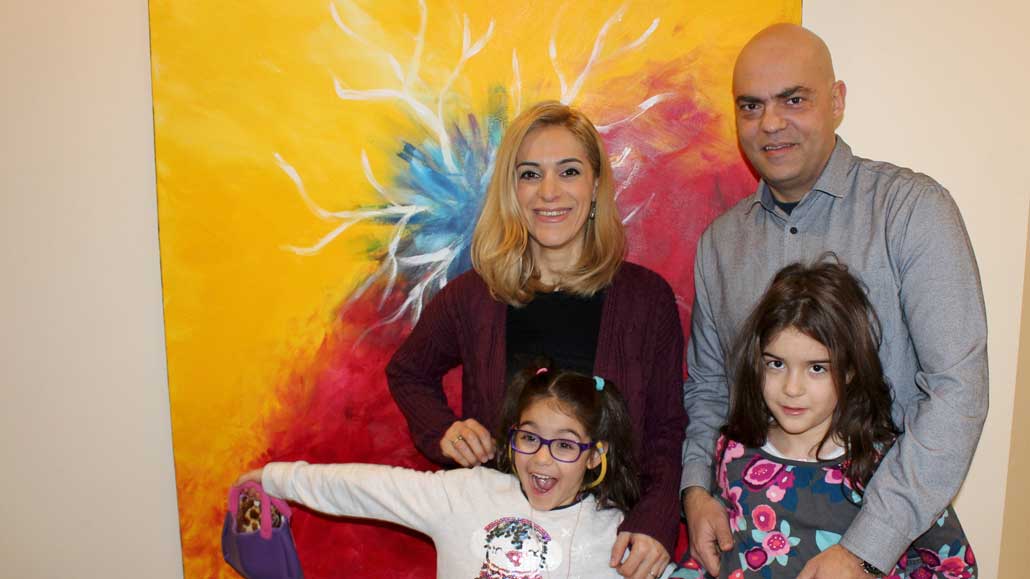 Recently, I met a new Leaside family: Panagiotis Podaras, his wife Rania, and daughters Alexandra (7½) and Giolanta (4½). I spoke to Panagiotis about their path to Canada – and Leaside.
Panagiotis was recruited to work as the quality control manager for Crosslinx Transit Solutions, the contractor of the Eglinton Crosstown LRT, for the whole of the 19 km LRT project. He has 24 people, one for each station, working under him to ensure that everything is built according to the specifications and contract requirements.
His path towards this job started in his hometown of Patras, Greece, where after high school, he studied civil engineering, and then did his required military service. A friend working in Saudi Arabia asked if he would like to work there. He accepted, thinking he would be there for maybe three months. Thirteen years later….
In 2008, he was working on a telecommunications project in Syria, before the current troubles. Through friends, he met Rania, who lived in Homs. When the project was finished, they married and moved to Saudi Arabia, where both Alexandra and Giolanta were born, but their passports show Greek citizenship, because of Saudi regulations not permitting citizenship to outsiders.
Panagiotis says his Arabic is "terrible – only a few words," which means that he and his wife use English as their common language. He jokes that this creates a communications barrier between him and his mother-in-law, who still lives in Homs.
For the last few years, the family lived in Qatar. While the two girls were enrolled in a British school and were learning a lot academically, Panagiotis and Rania realized the Middle East was not where they wanted to continue raising their daughters. When the opportunity arose to move to Canada, they were excited at the prospect.
Advice from colleagues about a location in Toronto was to look for a neighbourhood with "mature trees." Leaside fit the bill – and, bonus, is also close to the LRT – so they have started their life in Canada in our neighbourhood. Already, they feel comfortable in Leaside. They feel they can settle here with stability and call Canada home.