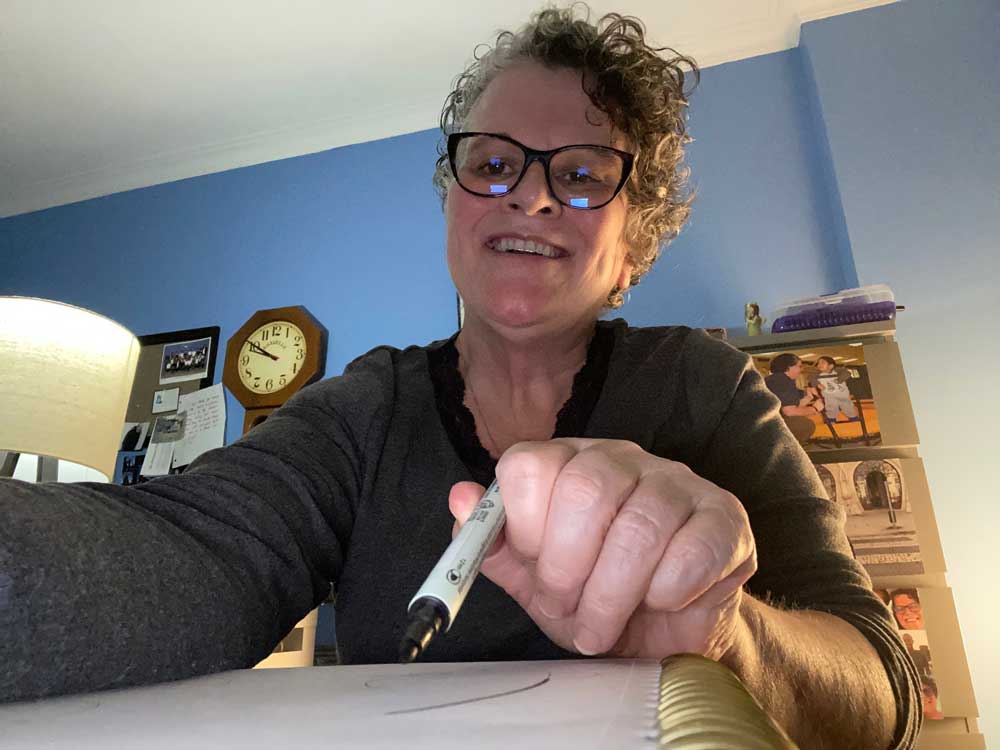 Before it was even Halloween, Nancy Howson announced she had already made all her Christmas presents! Yes, "made." That certainly grabbed my attention. Most of Nancy's presents this year are hand-knitted creations.
Nancy wasn't always a knitting wiz. Four years ago, her mother decided to give one more try to teach her daughter how to knit. Fine motor skills are not her strong suit, but she was willing to give knitting a try – again. Success! As testament to her devotion to knitting, she now has a whole bureau in her small Bayview apartment filled with wool and awaiting the next projects. Her mother has since died, but she would be proud of her daughter.
Knitting is just one of the ways Nancy is surviving COVID-19 on her own. As she says, "COVID taught me that I'm more of a survivor than I thought. COVID sucks, but I'm choosing to make the best of it."
She is a regular on the Bayview strip and knows the shopkeepers and staff by name. On her excursions, as well as getting fresh air and some exercise, she also picks up the ingredients to make interesting and healthy meals. "I love the Leaside neighbourhood, and it is helping me to survive COVID to at least go to the small shops and see somebody."
Nancy is also spending her time learning to draw. She's following her mother's advice: "you need hobbies." In fact, the drawings may make it into a self-published book.
Eighteen years ago, laid off from a job in Toronto, she decided that the time was right to try and see more of the world. Pre-Google, as she was investigating, up popped a job listing for a kindergarten teacher in Harbour Island in the Bahamas. "I'm not going to get it, but I'll try" was Nancy's reaction. But she did get it, and thoroughly enjoyed her year there. She and those students are still in touch, all these years later.
Once home again, Nancy held a variety of jobs, mainly working with children. By luck, at a time when she was working for a family with a child with Down Syndrome, a job at the Down Syndrome Association of Toronto became available. Nancy is now very happily the outreach coordinator for DSAT. The job is quite different in these pandemic times, but she, and they, are adapting.
What's next for Nancy's COVID-coping strategy this winter? She took some piano lessons as a young child, but didn't get very far. Now, she is trying her hand again. She has a keyboard, a teacher, and is practising a half-an-hour a day – currently in Grade 2 of the Royal Conservatory syllabus. As she says, "You need things that make you happy and bolster your soul."