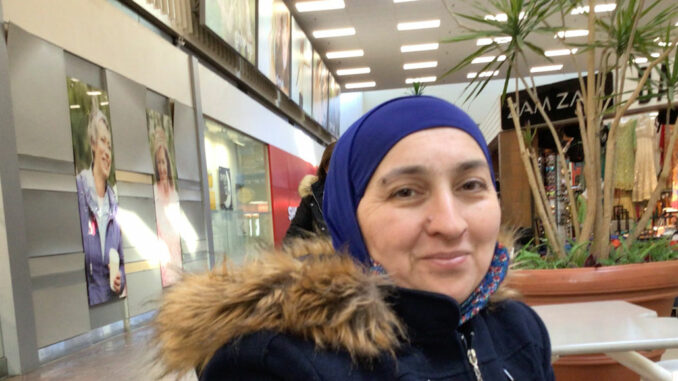 The 2023 recipient of the East York Agnes Macphail Award is Shakhlo Sharipova, a Thorncliffe resident since 2009. The award is presented each March to a resident living within the boundaries of the former Borough of East York who shows consistent volunteer leadership in social justice issues.
2006 in Tajikistan was not a good year for Shakhlo Sharipova. Because of the authoritarian regime, her husband became a refugee, leaving Shakhlo and their three children behind. She worked as a doctor at the National State Hospital in Dushanbe, Tajikistan's capital city, specializing in glaucoma, but their younger son, who was autistic, needed supports that demanded Shakhlo's time.
Three years later, her husband, now with permanent residency in Canada, was able to sponsor his family to join him. He first came to Montreal, but realized there were more job opportunities in Toronto and found Thorncliffe Park a good neighbourhood because a few friends had already settled there, plus there were halal stores.
Shakhlo's first years in Canada were hard. She was taking ESL classes, starting at level 3-4, and working towards academic level competency. She went to college to study sonography for a year, but couldn't find a job nearby to enable her to care for her younger son. Years later, she realized that she was probably suffering from depression at the time.
Shakhlo's path to social justice leadership really started in 2017. Others in her building at 43 Thorncliffe Park Drive would shy away from joining her and her son on an elevator. She asked the management company for the building, Morguard Property Management, if she could set up a table in the lobby to provide information about autism and help to erase its stigma. Morguard agreed to support the initiative, and even supplied coffee and cookies. This led to building a network of families with special needs and spawned other autism awareness events.
In 2018, with a $1,000 grant from the City of Toronto, she organized a "night out" event for women. It was an opportunity to be with other women, without children present, that wasn't expensive, and by comparing stories, they were able to identify the needs of women living in Thorncliffe. The group has grown, meets informally via WhatsApp, and with regular in-person gatherings, the next, appropriately enough, on March 8 – International Women's Day.
Another project that was a Shakhlo initiative involved 22 children who were able to attend a three-week day camp in Burgess Park in the summer of 2021, with breakfast, lunch and activities provided. The camp expanded, thanks to grants and fundraising, to 45 children in 2022 – half of whom were so-called "typical kids." Parents of these children reported they showed more empathy from their interactions.
There are quite a number of groups catering to different interests in and around Thorncliffe – ranging from food distribution, development of community parkland, climate change, updating the Overlea Bridge…and many more. This past February, Shakhlo coordinated a day-long event to enable representatives from all these groups to come together – 12 groups in total – to collaborate and showcase their activities.
Ramadan starts this year on March 22. One hundred families in the Thorncliffe/Flemingdon neighbourhood who might otherwise not be able to celebrate will have home-made meals, courtesy of Shakhlo and her network. The giving even extends to seniors in Crescent Town and Taylor/Massey creeks as well as homeless people in the neighbourhood.
Shakhlo's life as a community leader is very different from her life in Tajikistan. "I enjoy the life I have now," she says. "I am good at it, and feel alive. Life is not passing me by."
She certainly knows how to get things done. Shakhlo is very adept at making sure elected officials know what is going on in her neighbourhood and ways they can help. And Shakhlo and her husband also have a Canadian daughter, now 7½, who is adored by her autistic brother. Two older children are living on their own.
Someone said to her recently, "You're going to burn out." Her reply – "I'm not burnt out – but I do go out." Most emphatically.
Shakhlo will be honoured at this year's Agnes Macphail Award ceremony to be held in person, for the first time since 2019, at the East York Civic Centre, 850 Coxwell Ave., at 2 p.m. on Sun., March 19. Donations towards her chosen charity –TNO for grassroots-led initiatives – will be accepted by the East York Foundation.