Maybe it was the pots and pans. Suddenly, in the early days of the pandemic, people all over Leaside started making a noise every night at 7 to show our healthcare heroes – many of them working at Sunnybrook Hospital – how much we care. From a few homes, the good vibes spread throughout Leaside. Here are just a couple of Leaside neighbourhoods where community spirit is very much on display: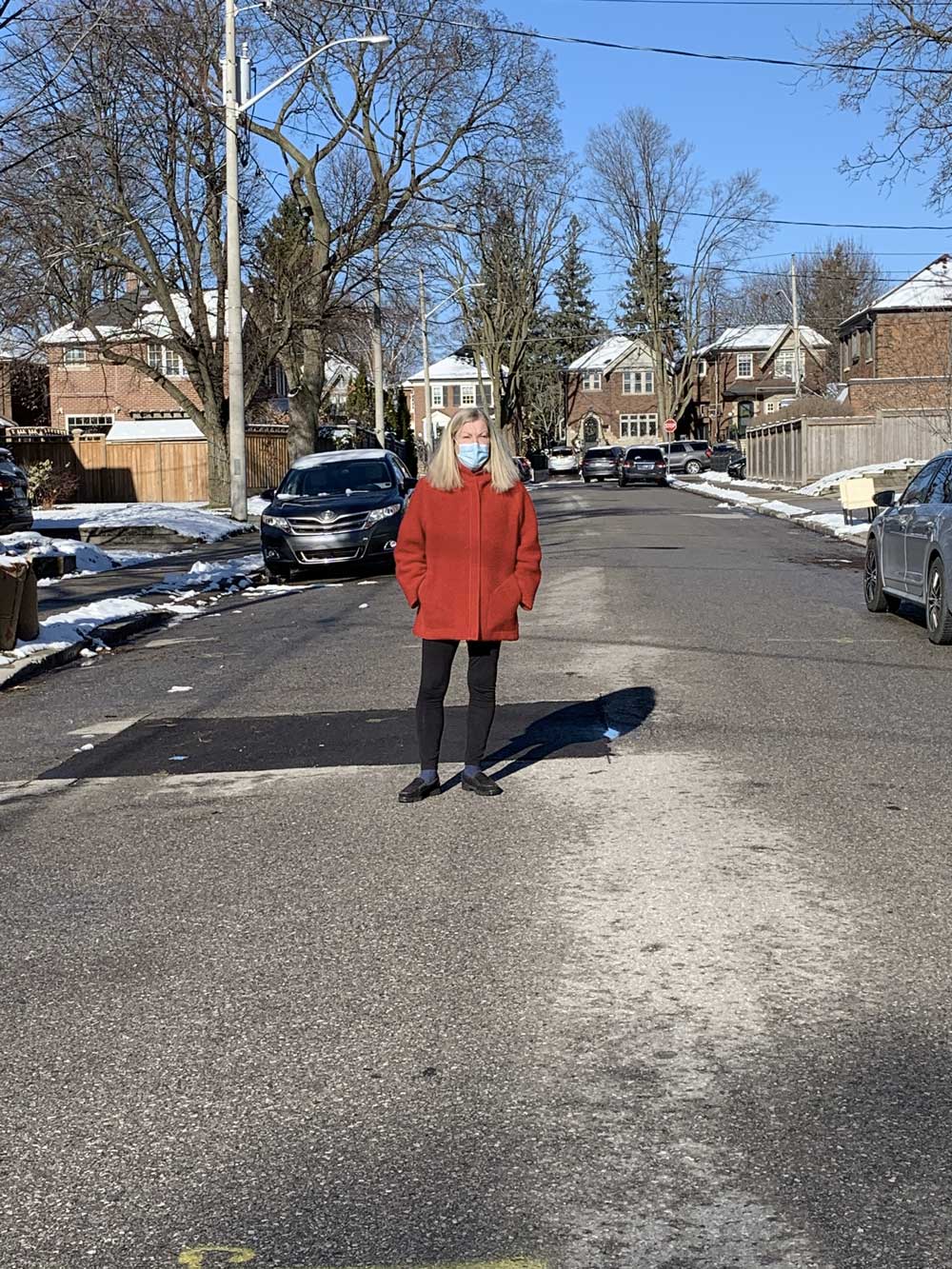 Astor Avenue
Who'd suspect banging a few pots would ignite a flurry of neighbourhood events boosting community spirit and residents' well-being. Certainly not Jan Hatges and her neighbour Avril Bow. "Avril and I ran into each other on the street mid-March, pots in hand, banging our thanks to first line responders, " said Jan. "As we headed in different directions on Astor Avenue, we were thrilled that many other neighbours came out and banged away from their porches and yards. This continued for weeks."
Jan and her neighbours were encouraged that so many on the street were participating and wanted to ensure the community spirit continued to thrive. She added, "My family has lived on the street for 25 years and we know everybody. It was an easy task to ask for and put together an email list of every household. We eliminated last names for privacy. I'd barely completed the list when a neighbour mentioned her daughter was turning five. Off went my first email to everyone and the child was serenaded with Happy Birthday, by a street choir, on her special day. And that was just the start."
Jan added, "We've signed cards and sung birthday greetings to neighbours turning from four to 80. We celebrated kindergarten graduates in June with a pageant that saw the tiny students receiving flowers and parading past cheering neighbours. And a high school graduate decked out in her beautiful graduation dress escorted by her dad in a kilt brought applause from 40 houses and tears to many eyes, mine included. We've celebrated Mother's Day, Father's Day, and on Halloween we had the kids in costume parade around in a circle receiving treats from socially distanced neighbours."
When asked why these events, many organized in minutes and over in under an hour are so important, Jan wisely commented that "many of the kids on the street go to different schools and rarely intermingle so they don't know each other. These events provide opportunities for kids and neighbours to meet and reconnect. The events also provide opportunities to gently and non-intrusively ask how everybody is doing. When a neighbour doesn't appear at an event, we can check in by asking if everything is okay."
Jan's advice to anyone inspired to rally their neighbours? "Start small and keep it simple."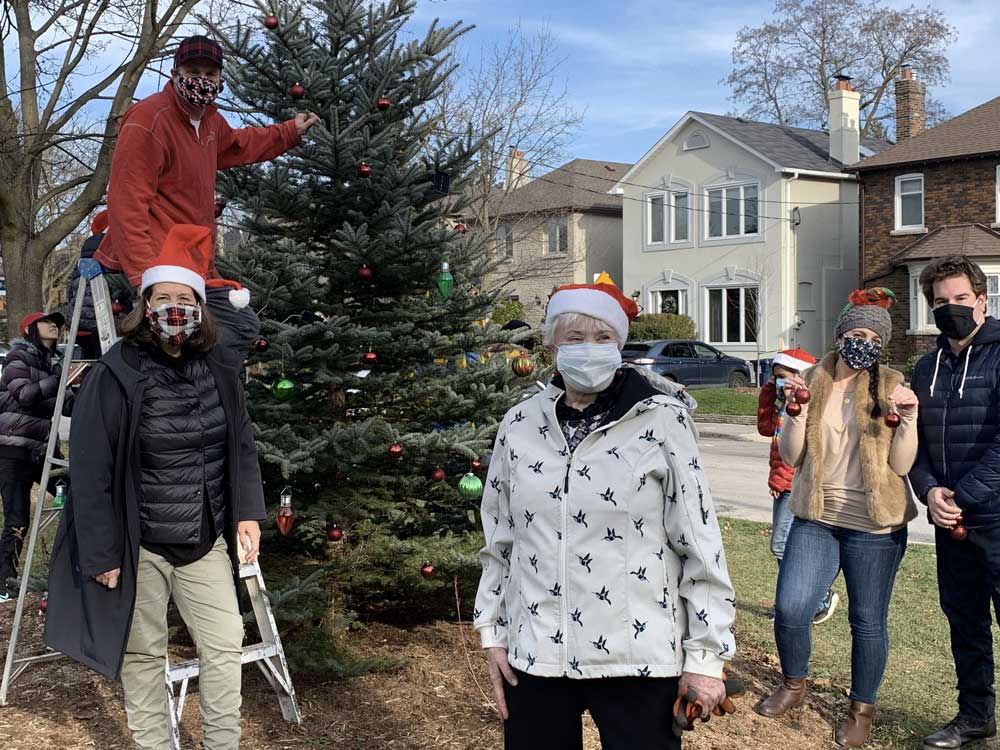 Triangle Park
Although most Christmas decorations have now been put away, back in November a spirited group of neighbours gathered to continue a tradition started 45 years ago. The original activity saw Leaside Garden Society volunteers organizing local school children to plant and maintain gardens at the library and in Father Caulfield 'Triangle' Parkette at the corner of Cameron Cres. and MacNaughton Rd. The 2020 version, like so many other traditions, was quite different. Unable to bring volunteers together to plant gardens, Nora Campbell, lead elf and current president of the Garden Society, teamed up with neighbours to plant in the spring and recently organized a socially distanced festive tree trimming gathering. Tree elves Liz and Daryn Everett and newcomers to their street, Lauren Miele and Peter Grouios, brought the 10-ft. tree to the park and secured it in the ground. Donations were collected for another Leaside tradition: the local Comedy Night Toy Drive. After the decorating, neighbour Barb Tinker said, "I feel like we live in a Hallmark movie. The generous Christmas elves made magic happen in our little town square, otherwise known as Triangle Park." If you're wondering, who is Father Caulfield? Read Ken Mallett's Jan. 2018 article in Leaside Life, available online.
Have you witnessed any acts of neighbourly kindness in your area? If so, we want to hear about them.