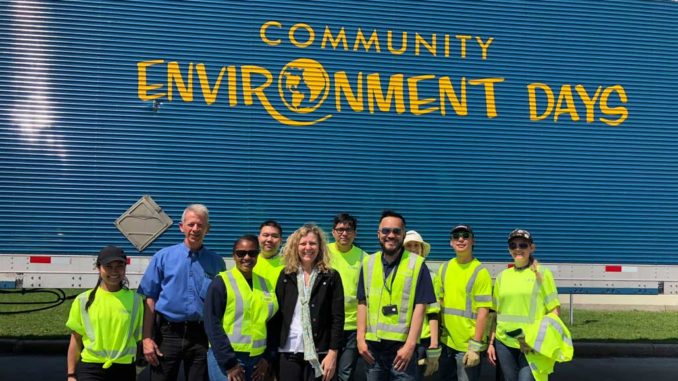 I am pleased to announce that the City is returning to a ward-based format for this year's Community Environment Days. Historically, the Community Environment Days in Ward 15 are among the best-attended in all of Toronto. This year, our local events will be held on Sun., April 10, from 10:00 a.m.-2:00 p.m. at York Mills Collegiate Institute (490 York Mills Rd.) and Thurs., April 28 from 4:00-8:00 p.m. at Leaside Memorial Community Gardens (1073 Millwood Rd.).
Environment Day is a great opportunity to clear out items found during spring cleaning such as used electronics, paints, solvents and glue, batteries, household hazardous waste, and fluorescent bulbs. Up to two free bags of compost per household will be available for pickup, while supplies last. In addition to properly disposing of non-landfill items, the City will also be collecting donations of:
• Sporting goods
• Books (excluding textbooks)
• Cameras, CDs, DVDs, and Blu-rays
• Dress-up clothing and costume jewelry
• Clothing, footwear, accessories, and linens
• Small household items
• Musical instruments and board games
• Eyeglasses, walking aids, and hearing aids, and
•Non-perishable food.
As the former Chair of Public Works and Infrastructure, I introduced the City's first-ever Long Term Waste Management Strategy (LTWMS) to guide waste management in Toronto for the next 30 to 50 years. Through the LTWMS – including programs such as blue bin recycling, green bin organics, yard waste, household hazardous waste, grasscycling, and backyard composting – the City of Toronto diverted nearly 400,000 tonnes of residential waste from landfill in 2017.
Solid Waste Management Services have always identified Community Environment Days as an important initiative to help divert waste from the landfill. For example, in a 2020 report, they estimated that over 1,400 tonnes of textiles have been collected at Toronto's Community Environment Days since 2003, representing nearly 25% of all the reusable items brought to these events. Textiles are one of the most common contaminants found in Toronto's blue bins, reducing our recycling program's effectiveness by tangling sorting machines, damaging equipment, and costing the City millions in processing fees.
You can find more information on the items that will be accepted for drop-off or donation at my Community Environment Days by visiting www.toronto.ca/environment_days. I look forward to seeing you there!