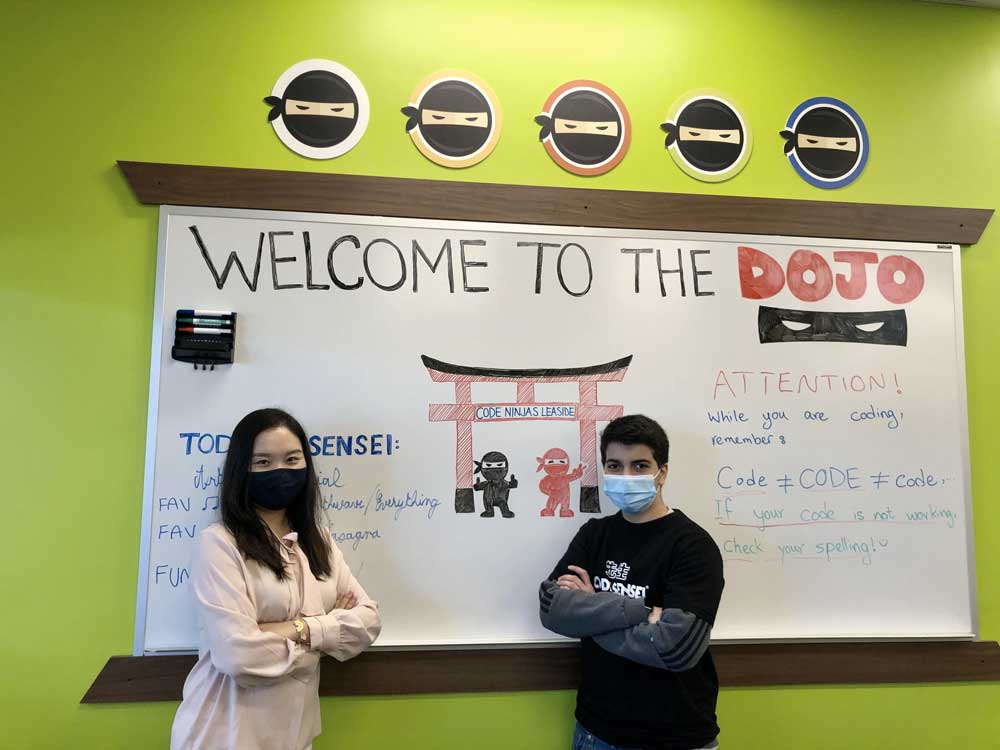 A few months ago, a school for ninjas appeared on the quiet stretch of Bayview between Merton St. and Mt. Pleasant Cemetery. But rather than being a martial arts studio, Code Ninjas is a place where children aged 7 to 14 learn coding, or how to write programming instructions for computers, through creating video games.
Code Ninjas is a children's coding network with hundreds of locations in the United States, the United Kingdom and Canada. The network was launched in Houston in 2016 by David Graham, a software developer who noticed a growing interest in coding for children. As the website explains, their "proprietary curriculum teaches kids to code by building video games they love. Kids aren't aware they're learning – just having fun." At the same time, they are gaining problem-solving, critical thinking and STEM skills.
This franchise, owned and operated by Emma Che and Kelvin Zhang, is the first location in Toronto. Kelvin and Emma met at the University of Victoria and eventually settled in north Leaside in 2018 where they live with their three young daughters. While Kelvin works in finance, he and Emma share a passion for education and were interested in starting their own school when they heard about Code Ninjas.
Recognizing the importance of coding as an essential skill not just in the IT field, but in every profession from carpentry to medicine, Kelvin and Emma soon found a suitable location and opened the school for online camps in June and in-person classes at the end of September. Kelvin acts as the centre director and Emma is the principal.
As befits the Code Ninjas name, the core game-based program called CREATE consists of nine belts or levels from white to black, and the learning space is known as the dojo. As Kelvin explains, "The curriculum is self-paced, not self-taught." The children get support and encouragement from the senseis, or instructors, and collaborate with peers as they complete tasks, learn coding languages and develop games. It takes one to two months to complete a level and at the end, students produce a marketing plan and submit their games to an app store.
The senseis are mostly university students with an interest in coding and extensive experience working with children. The students are also motivated by the "Belt-up" celebrations when they graduate to the next level and receive their colour-coded wristbands, and by seeing their photos journey through the different levels on a wall charting their progress.
In addition to the in-person program, Code Ninjas has recently introduced a new online option called REMOTE CREATE, which connects a ninja with a sensei. In both programs, parents can purchase a membership which can be renewed every month, every six months or every year. The membership covers two hours per week and the flexible schedule allows families to choose convenient times.
Kelvin and Emma are happy with the Leaside location and the enthusiastic responses from families in the surrounding area. The ninjas, says Emma, "are not only having fun, but are learning skills that will prepare them for future employment opportunities."
For more information about their programs and current COVID protocols, visit the Leaside Code Ninjas: https://www.codeninjas.com/leaside-on-ca