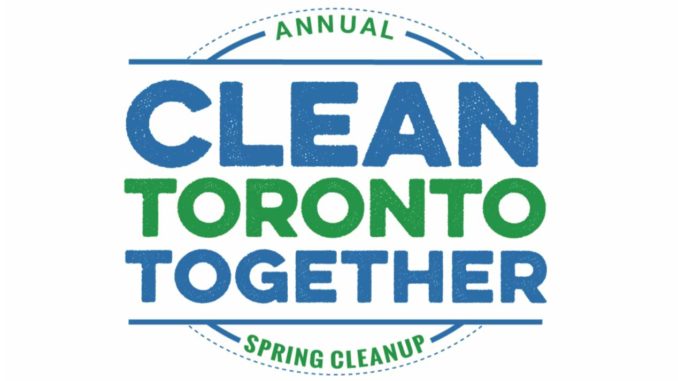 Editors note: To register and find out more about the April 28th Clean Leaside Event get details here: https://leasidelife.com/event/clean-toronto-together/.
Toronto's 16th annual spring cleanup, Clean Toronto Together, takes place April 26-28. Will you join me in blitzing Leaside?
The 20-Minute Corporate Make-over is a terrific way for local businesses to show their commitment to a cleaner, greener Leaside. The School Cleanup Day provides a fun and active way for students and staff to freshen up our schoolyards. And for residents, simply select your favourite park, ravine or public space; ask your family and friends to join you; and register your cleanup by emailing for free supplies and litter pickup. With so many helping hands, we can accomplish a lot together!
Last year many Leasiders contributed, including schools, church groups, the Bayview-Leaside BIA, Leaside Business Park, baseball teams, dog walkers and families. Let's make this year even bigger and better. My family will be sure Trace Manes Park is clean as a whistle for all the great spring and summer activities. We will also be joining the board and staff at Leaside Memorial Community Gardens for their first annual cleanup on Sunday, April 28, 10 a.m.-noon. Volunteers will meet and check in at the main entrance of the arena, begin by cleaning up the parking lot and grassy areas around the perimeter, and then move north on Laird to clean up the commercial areas and public spaces. A board member told me "our ambition is to make the east boundary of Leaside clean and welcoming for all who enter our neighbourhood from that side. There is a great deal of pride in Leaside and we need to let that pride shine. We welcome businesses on Laird to support this effort by coming out to cheer on our crew of volunteer litter-picker-uppers as they march north toward Eglinton for such a great cause."
There are many ways to make litter picking fun. A friend, knowing I'm a litter nerd, gave me a game called Rubbish Bingo. It's a set of cards with pictures of litter each with a point value. You share the cards, go searching for your items, and the person/team with the most points wins.
Use social media to create a "Leaside litter happening." Tweet your photos to @leasidelife, @jayerobinson, #cleanleasidetogether, #cleantorontotogether.
Join the worldwide community collecting, identifying and mapping the world's litter through an app called Litterati. Simply install Litterati on your smartphone, photograph trash as you pick it up and tag the company that produced it. The trash is geotagged to provide insight into problem areas. The most commonly found brands and products are identified, and Litterati uses the data to work with those companies to find more sustainable solutions. To try it out, I went to Trace Manes Park and used the app to photograph and tag a discarded Tim Hortons cup. Then I went to the map on their website – litterati.org – searched for Trace Manes Park, and could see my item as well as a plastic bag someone else had tagged. I was also able to download my data to a spreadsheet so I can track what I find. There are currently 20 countries using this app, and Canada already has more than 34,000 people registered. Over 2.5 million pieces of trash have been collected to date with the top four tagged being plastic, cigarettes, paper and cans.
Join Greenpeace to resolve the plastic pollution crisis (globally we produce nearly 300 million tons of plastic waste every year) by calling out companies over single-use products. Simply post a photo or video to social media, tag the brand (e.g. @cocacola), and use the hashtag #IsThisYours? or #breakfreefromplastic to let companies know you're calling them out for polluting the planet with throwaway plastic.
If litter picking isn't your thing, spend the weekend reducing your own litter-producing consumption. Drink tap water, use your reusable coffee mug, say no to takeout, refuse a plastic straw, and so on. As a community, we can all do our part in our own way to make this year's cleanup the biggest and most successful ever!