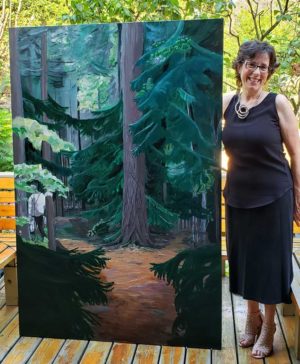 Thirty-seven years ago, Celese Fletcher was looking for a house that wasn't too much of a commute from work at CanWest Global at Barber Green and Don Mills Road. All these years later, Celese is still happy to be in that Leaside house at Rumsey and Eglinton she was fortunate enough to find. As the family expanded to include three sons, "the house got smaller and smaller – but we can't move to Aurora," says Celese today. "It is a good house for all of us."
Living in one place this long did not necessarily come naturally to Celese. Her early life was nomadic. Her father, now 92, was an engineer, town planner and environmental planner. She was born in Vancouver, but lived in Manchester, England for a time and in Kitimat, BC – just two of the many places where her father's work and studying took their family.
Her given name provides a bit of a challenge for the unobservant. No, it is not Celeste! She provides pronunciation help by comparing it to "isosceles" (as in triangle).
Celese's work life with CanWest Global kept her in the same place for many years, even as she changed jobs within the company. She started in news and ended up as national vice-president, labour relations.
When the time came to leave CanWest, the travelling started again – but this time from her solid home base in Leaside. She has worked in, among other places, Singapore, for the Tahltan First Nations in northern British Columbia, and closer to home, for various boards of education on issues of diversity and inclusion, while learning "how to become an expert on how to get people to work together better." Her approach is to be "consultative and collaborative" and learn "how best to use this to guide and support groups, hoping for outcomes of simple and effective things going forward."
One project saw her driving into Tumbler Ridge, a mining town in northern BC. For some reason it felt familiar to her. When she checked, she discovered that her father had created the town plan.
Now that the last of her sons has moved out, Celese is finding more time to indulge her passion to create art. She has been a recreational painter for more than 25 years, working in acrylics. She does portraits, landscapes, and loves abstract impressionism – particularly the work of Chinese impressionists. So far, she hasn't hosted a local exhibition, but was featured in a show presented by the South Channel Association in Georgian Bay.