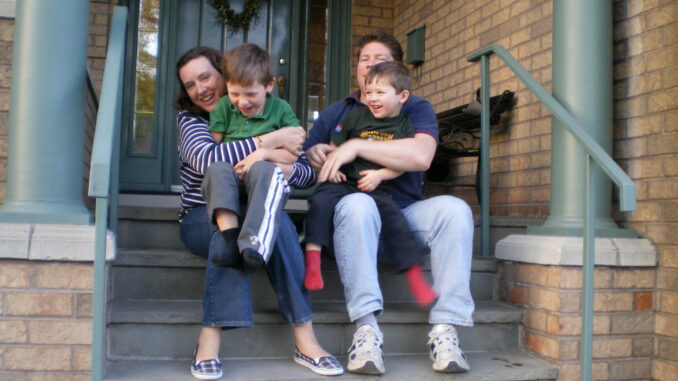 There was a big snowstorm in early 2008, the day we moved in to our Leaside home. As I stood outside directing the movers in the blowing wind, I met my immediate neighbour (let's call her Sara) who told me she had two young sons the very same age as ours. This was a great sign.
I hadn't been sure about Leaside. I grew up downtown, lived in New York for 10 years and bought my first house in Trinity Bellwoods.
After my husband and I bought a small Victorian together on Major Street, we enjoyed the kidless life near all the great bars and restaurants on College. However, when we had two sons in short succession, we knew we needed a yard.
We looked everywhere across Toronto. As far west as Swansea and Roncesvalles, over the Danforth, East York and a few houses in Leaside. My husband's family had lived on Killdeer Crescent and he liked the neighbourhood. I thought it was the sticks! So far from everything!
When our agent had just about had enough, he showed us our house on Malcolm Rd. and I fell for it.
It was more than we intended to spend and we spent a stressful night waiting at the old Golden Griddle on Laird while our agent negotiated. We hadn't sold our house downtown yet. I remember asking for a sign if it was the right decision. There was no lightning bolt, but I knew it was right. We never looked back.
Our older son turned five a few days after we moved in. Both boys started at Rolph Road that September in SK and JK.
We walked to school every day, and then my boys walked to Bessborough and Leaside High. We walked to the arena for home hockey games. In early days we walked or biked to local soccer and baseball. I became very involved in the boys' school and ran my graphic design business from home. St. Cuthbert's Church welcomed us. We made friends through the school, through sports and the sheer proximity of neighbours.
We walked to a wonderful strip of restaurants and stores on Bayview. An eclectic mix of just about everything one could want. And at least five major grocery stores in the vicinity and big box stores if needed.
Far from downtown? Not really! The Bayview extension is the best kept secret for Leasiders to be downtown in mere minutes. But I found I didn't need to go there as often anymore.
I woke up every morning to the sight of a gloriously large pine tree in my neighbour's yard.
Honestly, it felt like the country after all those years downtown.
Now that the boys are at university, I look back and think what a great life we have had in Leaside. How lucky we have been to raise our family here, the friends we all have made including the amazing neighbours all around us, the good times. A big city life with a community feel. Priceless.
This year Leaside celebrates its 110th anniversary. We will be exploring this theme in 2023 and thus we are interested in stories about how people ended up here and why. Tell us your story at .