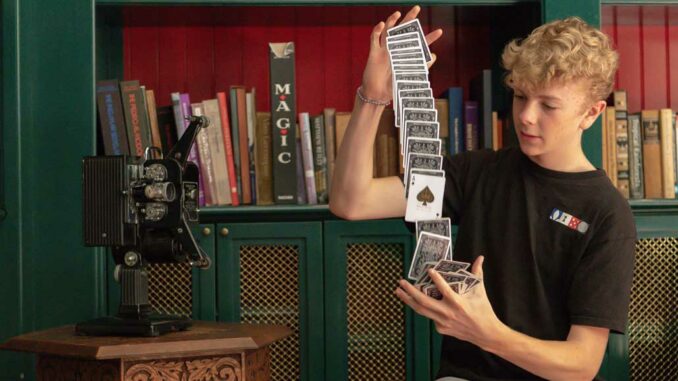 Houdini, Copperfield, and Blaine – move over! There's a new magician in town, and in Leaside specifically. Teenager Ben Jones is an experienced magician who's been perfecting his craft for almost a decade, despite his young age.
According to the American Museum of Magic, the art of magic has a gruesome history and didn't become a respectable form of entertainment until the 1720s or mainstream until 1845 when clockmaker Jean Houdini (no relation to Harry, who wasn't born until 1874), launched his magic career at Le Palais Royal in Paris.
Ben shared an inspiring story of how he started in magic. "At summer camp when I was eight years old, a guest, Jonah Babbins, performed a magic show. I was spellbound. I went up to him right after the show asking how he did a specific trick and how I could learn magic. He explained the trick and then told me which websites and magicians to study. Immediately after talking with him, I easily impressed other young campers with the trick I'd just learned. That feeling was so amazing but brief as the counsellors, although polite, I could tell weren't buying it. I was crushed yet determined to get better."
As a Grade 10 student Ben juggles schoolwork, sports, and his growing magic business. "School comes first, then during the season I'm the shortstop on my baseball team. I love the hand-eye aspects and action of baseball in the middle and field positions. Evenings and weekends are when I can book magic events."
Asked how he is advancing his skills, he says that he's always "experimenting, practising, and playing with cards from morning till night, which the school permits because this calms me and helps me focus." There is also the FISM magician conference in Quebec every three years. Two thousand magicians from around the world attended the 2021 conference, postponed until July 2022, where they met, competed, performed for each other, and learned magic.
Asked about his typical gigs, Ben commented, "My favourite are private parties and big corporate events where people are relaxed and having fun and I walk around. I really like to get up close, connect and have a conversation with a small group and show them tricks for five minutes or even longer, if they ask or seem to want more. It's called up-close magic. Seeing adults enjoy themselves is fun for me, and a bonus is that most of the events are in the evening, so I get to sleep in on weekends. I've done kids' shows as well, although they're harder, as kids are curious, tend to observe closely and ask so many questions, which can interrupt the flow."
Ben is drawn to the creativity of magic, but beyond the magic he loves bringing joy and delight to others.
If you get the opportunity to see him in action, maybe at a corporate event or at Casa Loma where he just wrapped a month-long series of shows for their 'State of Mind' event, be prepared to be entertained, charmed and, for sure, fooled.
For more information see: https://benjonesmagic.com.