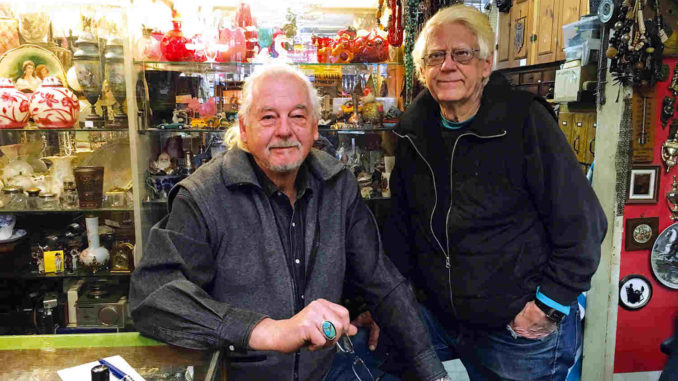 It's no wonder Pagnello's Antiques placed first in the "Best Use of Merchandise" category in our recent Holiday Window Decorating Contest since the Pagnello brothers, Michael and Frank, have been accumulating an amazing array of antiques including vintage toys and decorative items for more than five decades.
The brothers cut their teeth in the antique business at their father's store on Queen St. before opening their own shop on Bayview in 1966, attracted by the charming neighbourhood, good mix of shops and restaurants, the Bayview Playhouse and the reasonable rents. At first, theirs was the only antique store and it took a while for the customers to accept them because of their youth. But after amassing a large inventory from antiques markets and house contents sales, they were on their way.
The 1970s and '80s were the real boom period for antiques. Pine furniture, brass, stained glass and Art Nouveau were the "must haves" of the '70s, while in the '80s, Art Deco was in demand. This is when Pagnello's Antiques attracted clients from across Toronto and even celebrities appearing at the Playhouse. Soon more antique and pine stores opened on Bayview to make the street a popular style destination.
In the last few years, restoration has become a large part of the business as the brothers enjoy repairing and rejuvenating clocks, furniture, lamps, paintings, anything that might be discarded otherwise. They have gained the knowledge and experience to save these pieces, and there are few places left that can provide that service. As Frank says, they have "a lifetime of parts for antiques." Not only is it better for the environment to save the pieces, but they enjoy "preserving items of sentimental value and seeing the customers' pleased reactions."
The brothers still do a brisk business in a wide variety of goods: Asian vases and tea sets, silver serving pieces, toys, paintings, bronze statues, vintage jewellery, military memorabilia such as medals and badges, and light fixtures. Some exceptional pieces from the 19th century are a pair of Sèvres vases and a statue of Marcus Aurelius.
Many customers love spending time in the shop, examining the treasures as if it were a museum. About 30 per cent of their business comes from consignments, and often clients will ask the brothers to "find a good home" for their beloved pieces hoping that they will live on.
Another development that Michael has observed is the role of Millennials in rejuvenating the antiques business through their support for green initiatives. "It's more than reusing and recycling, as they have a high regard for historical items and a renewed appreciation for quality and craftsmanship."
While Pagnello's is once again the only antiques store on Bayview, Michael and Frank look forward to whatever the future holds, and plan to stay there as long as they can. Drop in to see their unique inventory and embrace the latest "everything old is new again" recycling movement.