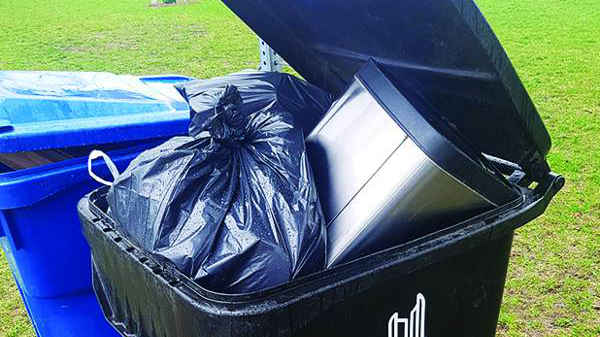 On my way to the library today, I stopped by to have a chat with my good friends the garbage and recycling bins at the Trace Manes children's park, to see how their summer had gone. 
"Super busy," they said, "and so fun to see everyone enjoying the wading pool and playground. As you can see, we're being well used. But we do feel a little sad, unloved, somewhat disrespected and taken advantage of. So, could you pass these messages along to the community for us? It would make our jobs a lot more manageable and enjoyable!"
• Please don't dump your household garbage in us as we get overfilled. And when that happens park users have nowhere to put their garbage and it often spills over. Gross! It is also against the law, and if caught you can be cited for an infraction and fined – which would be a waste of your hard-earned money. If you need a larger garbage or recycling bin, please call 311 or purchase garbage tags for excess garbage bags online or at Shoppers Drug Mart or Canadian Tire.
• If you see overflowing garbage or recycling bins, please call 311 to have us emptied. We like to look fresh and clean to serve you with pride and excellence, and sometimes the regular pickup is not enough.
• Dog owners – please take your scooped and bagged dog poop home with you, as you take your dog home with you, and put the bag into your own green bin. This way it will be turned into compost for your garden, give us some room to breathe, not stink up the park, not attract flies, and not clog up the landfill sites. If you have excess organics and need additional green bins, you can contact 311.
• Please stop throwing non-recyclable items such as coffee cups, dog poop, food and other odds and sods into the blue recycling bin. It contaminates all of the good recyclables and then everything ends up in the landfill. Kind of a waste, we'd say. Our friends in Solid Waste Management post signs to help you place items in the correct bins so please read and respect them and us.
"Thank you! We're excited about the upcoming park renovations! And we're looking forward to having a little rest now that everyone is back to school. We love to serve our community, so drop by anytime and say hi. Best wishes for a litter-free Leaside. With gratitude, your Trace Manes garbage and recycling bins."