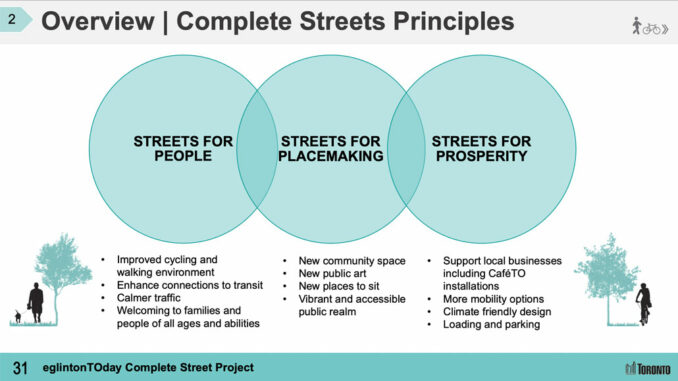 If you're concerned about road safety, you've likely heard about "complete streets." Often described as "streets for people," they are frequently prescribed for what ails our roadways. A more comprehensive definition comes from Toronto's Complete Street Guidelines: "This 'complete streets' approach reinforces that streets should safely accommodate all users – pedestrians, cyclists, transit services and motor vehicles – and also support and enhance local neighbourhood context and character. It's about making streets that are safe, beautiful and vibrant places with efficient links in a multi-modal transportation network."
Here in Leaside, a complete street is in the works for Eglinton Avenue to complement the new Line 5 Crosstown LRT that will soon be running beneath the street.
From Eglinton Connects to eglinton TOday
Eglinton Connects Streetscape is a council-approved vision for Eglinton Avenue, calling for a comprehensive remaking of the streetscape featuring wider sidewalks, separated cycle tracks, more trees and public amenities. Although conceived in 2014, it has never moved beyond the conceptual design phase.
With the completion of the Eglinton Crosstown LRT fast approaching, and little appetite among residents and businesses for continuing construction on Eglinton, the City has launched eglinton TOday to implement complete street amenities employing the "quick-build" approach that was used successfully for ActiveTO during the pandemic. Permanent implementation would follow as other construction projects arise. Phase I, from Keele Street to Mount Pleasant Road, will be implemented in 2023. Public consultations and initial design are already underway. Phase II from Mount Pleasant Road to Brentcliffe Road is planned for 2024.
While Leaside will have to wait an extra year for complete street features on Eglinton, residents have more time to determine what they want. It's an excellent opportunity to get some of the safety improvements requested through the Leaside Neighbourhood Transportation Plan survey for Eglinton, such as tightened turns at intersections into the neighbourhood to slow vehicles and protect pedestrians, calmer traffic and reduced speeds by narrowing vehicle lanes, as well as protected bike lanes and the potential for expanded on-street parking for the local businesses.
The Midtown Yonge Complete Street experience
To see how a quick-build complete street can work, look to the Midtown Yonge Complete Street pilot. Implemented in 2021 from Davisville Avenue to Bloor Street, it includes 21 street-side patios (as part of CaféTO), protected bike lanes, pedestrian protections at intersections, as well as plantings and street art. City staff addressed issues raised during the pilot about the turning needs of vehicles, accessibility features, timing of traffic signals and drop-off and delivery zones quickly thanks to the quick-build approach. Recent data released in August show that the pilot has several measures of success – more people are walking (up by 126%) and cycling (up as much as 193%), while traffic volumes have declined by as much as 10% and travel times in the corridor are up at most by 90 seconds compared with pre-pandemic. Not surprising, there are calls to make the pilot permanent. When linked with the complete street coming to Eglinton, Leaside would have our first protected and connected cycling route right on our doorstep.
Learn more:
eglinton TOday: https://www.toronto.ca/community-people/get-involved/public-consultations/infrastructure-projects/eglintontoday/
Yonge4All: Make the Midtown Yonge Complete Street permanent – https://www.bit.ly/Yonge4All
Holly Reid is a recreational road rider and cycling commuter. An advocate for safe cycling, she is a member of Cycle Don Valley Midtown, Cycle Toronto's advocacy group for Wards 15/16.