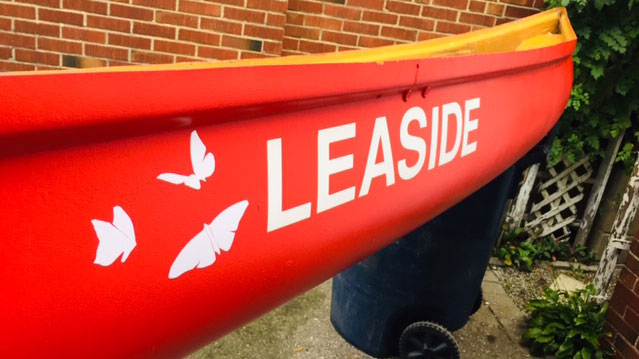 On a damp and chilly Sunday morning, Rick Hutchings from the Leaside Garden Society and his daughter Victoria walk across the lawn at the Leaside Library with shovels in hand and determined looks on their faces, then suddenly stop. "Here it is," Rick says, and the two start digging to carve out the image of an enormous butterfly.
This will be no ordinary garden bed. The big butterfly is just a temporary marker and a clever way for Rick to announce the location of Leaside's first David Suzuki Butterfly Canoe.
I've dreamed of this moment and even wrote about it last year in my article 'Leaside is blooming but is it buzzing?' Now, thanks to the Leaside Garden Society, the David Suzuki Foundation, the Leaside Library and the City Parks and Rec department, that dream will become a reality.
In 2017, the David Suzuki Foundation decided to do something about the serious decline in populations of native bees and butterflies due mostly to a loss of habitat and their essential food sources. Their mission was to plant pollinator patches filled with native wildflowers, plants and shrubs in schoolyards, churchyards, public streets and parks to create a highway of very specific gardens for butterflies and bees – called the Butterflyway. Starting with only five cities across Canada, the program continues to expand every year and now includes their popular Butterfly Canoe.
More than just canoes
These canoes are more than a whimsical display of pollinator plants. A David Suzuki Butterfly Canoe has become an identifiable symbol of a community's commitment to working with nature to help our pollinators thrive.
Planting up a canoe might seem like a simple undertaking, especially for the Leaside Garden Society, but Rick Hutchings has high standards. "Being the first canoe project in the East York area, we have to do this right!" And "right" to Rick means bigger and better than any other butterfly canoe out there.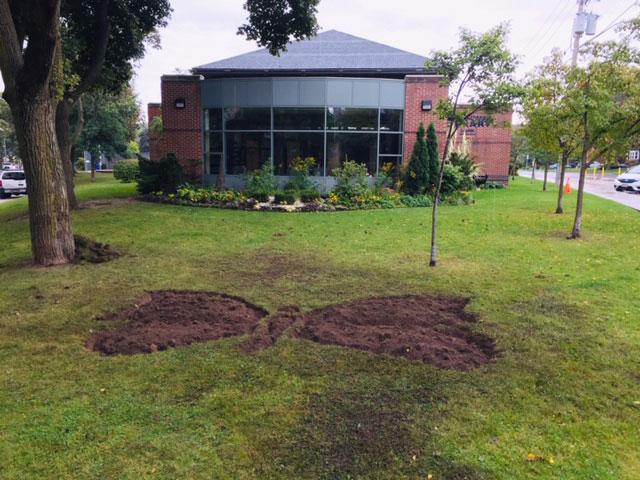 His plan will reshape the butterfly bed into an oval and affix the bright red canoe (that he painted himself on the Thanksgiving weekend) on a slight angle, then the City Parks, Forestry & Recreation will surround it with rocks. A few trees of redbuds, white pine and birch will be added to the outer bed as well as dogwood shrubs and some coneflowers to give it a rugged Canadian feel. Finally, the canoe will be filled with soil and the pollinator plants from the David Suzuki Foundation will be added.
So much thought, time and effort have gone into this project and it hasn't been without challenges. The installation was delayed by a month because getting approval from the Library board and the City took some time. Because of that delay, the designated canoe from David Suzuki went to another project. Rick managed to find a replacement but had to drive all the way to Kawartha to get it. The canoe was generously donated by by Geoff Kettel and Adele Freeman. Still, undaunted and with enthusiasm, he says, "We are so excited about this project, not only for the pollinators but for the community as a whole. It's a lot of work, but we do it because we love it."
This kind of love pays off.
The abundance of butterflies and bumble bees this summer was astonishing. They were everywhere and in numbers we haven't seen in years – all thanks to organizations like The David Suzuki Foundation that not only bring our awareness to these problems, but give us solutions to create change. It's also thanks to the many home gardeners and countless volunteers who have been planting the essential native plants and wildflowers pollinators need to survive and thrive.
This butterfly project clearly shows that with knowledge and understanding, our conscious efforts for change really CAN and DO make a difference. The proof is in the butterflies!