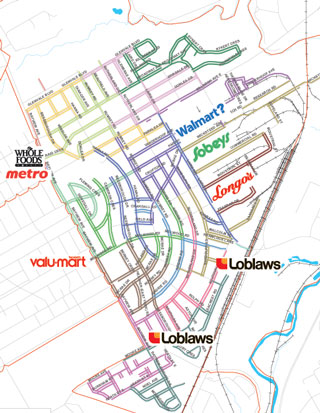 Not too long ago Leaside had just three grocery stores, all along Bayview Ave.
When Whole Foods opens a location at Bayview and Broadway, expected sometime in 2015, we will have seven major grocery retailers.
And, for better or worse, many expect that the SmartCentre North development on Wicksteed will eventually include a Walmart, which would also sell groceries. That would be eight big ones, all in an area that has seen little population growth in the past 20 years.
And it makes us different.
Some rough comparisons, because it's hard to set the size of a community:
Don Mills has three large stores, the Yonge and Eglinton area just one with a Sobeys a bit away on Mt. Pleasant. There are three stores for Lawrence Park, Riverdale and Deer Park. Two for Leslieville, High Park, Willowdale and the Beach.
What's the big deal with Leaside?
Let's look at several answers.
"Canada has some of the strongest and most stable returns for supermarkets in the world," says Don Marleau, a Standard & Poor's credit analyst covering the Canadian retail sector who is familiar with Leaside.
"One of the key strengths of Canadian supermarkets – and other leading retailers like Canadian Tire and Shoppers Drug Mart," says Marleau, "is their attractive locations in increasingly dense urban areas."
We're not increasingly dense. But we have other attractions.
Janice Chan, Ontario marketing team leader for Whole Foods, says that when considering locations for a new store they "look for an area with a large number of college- or university-educated residents, which Leaside has."
And, she adds, "A significant percentage of shoppers at our four existing GTA stores – especially at our Yorkville location – were from M4G," the first digits of Leaside's and Bennington Heights' postal code.
When Rob Tremblett was thinking about buying a Valu-mart franchise, he too did his demographic research. But he also saw opportunity in the market he refers to as Leaside-Davisville for less tangible reasons.
"It's a real niche area with a small-town feel within the city of Toronto. This is the kind of place where building relationships matters – and that's critical to small business success. I'm very happy with our decision to choose Leaside."
Longo's looked at Leaside because the former industrial lands east of Laird came open for redevelopment.
When First Capital Realty proposed the Leaside Village site, says Anthony Longo, president of Longo's, he was intrigued by the idea of working with a heritage building.
But his company had to do its own research first. "We looked at our nearest location – York Mills and Leslie – and found that 9 per cent of our customers there were making the drive from Leaside. That told us that Leaside fit our demographic target, which we describe as 'families that are food-involved'."
The longest continuously-operating grocery retail store in the area is Loblaws, at Moore, opened in 1963. Valu-mart at Millwood opened in the mid-'70s and has been run by Rob and Jesse Tremblett since 2007. The former Dominion store at Eglinton was rebranded as a Metro store in 2008.
In the early 1990s Loblaws opened a second area location on Redway Ave. and there things stood until 2010 when a Sobeys opened at the new SmartCentre on Laird.  Longo's arrived this past summer.
If Walmart brings the number up to eight large grocery retailers in the area, will something have to give? Loblaws, Metro and Sobeys so far have larger floor space so can offer a wider selection of products. And because they are big chains they can compete for shoppers on price, freshness, loyalty programs and convenience.
What strategies will the challengers adopt to attract and keep customers?
Longo's consumer spokersperson Rosanne Longo says, "We work to build relationships with our local farmers and we take our in-store experts on field trips to meet our producers and suppliers around the world so they can learn about the produce, meat and cheeses and answer shoppers' questions."  She adds that the Leaside location offers over 300 cheeses with a pairing expert available for advice.
Janice Chan of Whole Foods says, "We want to educate our staff so they can tell you about the fruits and vegetables and where they came from.  We put the local farm location right on our signage." Whole Foods also aims to be a trusted source for natural organic products and food for persons with special dietary needs.
Rob Tremblett takes a different tack. His Valu-mart store is competitive on quality, freshness, selection and pricing, but he always comes back to building relationships.
"I work with the local hockey and baseball teams, the Rotary Club and their annual corn roast, the schools and all their activities – like Sarah's Food Drive at Thanksgiving. Being part of the community means giving back – it's a two-way street – and I believe that if you support the community, the community will support you in return."
Tremblett's Valu-mart has been a generous supporter of the arena expansion project, as has Longo's, which announced a major donation deal when it opened its Leaside store in August.
There is a concern for the future.
"The landscape in Canada for food retailers is relentlessly competitive and dynamic," says retail expert Marleau. "Fast-growing discounters pressure margins that currently rank ahead of U.S. peers."
What that means for Leaside, translating the industry jargon, is that even those stores that compete for shoppers with higher-quality product, knowledgeable service and community engagement can't afford to let their prices get too far out of line with what consumers could find in a No Frills, a Food Basics or a Walmart.
So it seems Leasiders will continue to enjoy a wide range of grocery-shopping options at least in the short term.
But with "destination stores," both high and low end, locating here and drawing customers and their vehicles from further afield, especially for Walmart, what benefits the consumers of Leaside in prices may  force the residents of Leaside to pay a price in traffic increase.
Sobeys, Metro and Loblaws were each invited to participate in this story but none responded to requests to provide a spokesperson to be interviewed.